Life Stories
There's no time like the present to preserve the past…
---
Life Stories is a bespoke, personal oral history recording service to ensure memories can last forever.
Have you ever thought you should record a relative or friend talking about their life? Wish you'd recorded a grandparent or parent's stories? Or maybe you want to document your own stories and memories for future generations…
A broadcast quality audio recorded interview / conversation - edited, produced and packaged - is the perfect way to document your history through stories and memories. Like having your own Desert Island Discs...
---
B/W photos taken from 'Out of Darkness' by EM Campbell
---
How we do it
After an initial consultation either by telephone or email, we'll decide how best to approach your recording. We'll then visit you or your relative, conduct and record the interview, and return to our studio to edit and produce your quality audio document.
The Interview
Our interviewing style and technique comes from years of broadcasting and interviewing experience. The aim is always to make sure the interviewee feels comfortable and relaxed, as stories and memories will only really come out in a conversation, and that's really important!
We'll prepare for our interview by talking with you first:
We'll talk with you about the focus of the Life Stories interview. If it's a relative of yours we're talking with, what do you feel is important to hear?
We may decide that you should be there too, as sometimes a guided conversation between one or two family members can work best
We do use some standard questions to trigger the telling of stories and memories, but we may encourage you to dig out photos that can help too
We'll provide you with a preparation sheet to help guide you beforehand
The Location
We can come to you, and the best place to do a Life Stories interview is really the most comfortable one, so that can be your choice, but it needs to be a quiet place with few distractions.
The Production
The interview will be recorded using a portable broadcasting microphone and recorder – it's pretty unobtrusive and the quality is excellent.
Our interview will last two to three hours, which believe it or not can be a good amount of time for a lifetime! This is then edited - this is the bit that takes the longest – mainly removing long pauses and the interviewers voice, as well as ensuring everything is paced for smooth listening.
The audio is then sweetened to give it that broadcast quality, broken into chapters for easy listening, packaged up and then delivered to you.
Recording for you
This will be produced as a high quality digital file (WAV) and stored on a boxed USB, as well as sent to you as a digital transfer. Old fashioned formats like CD or even cassette are available at request!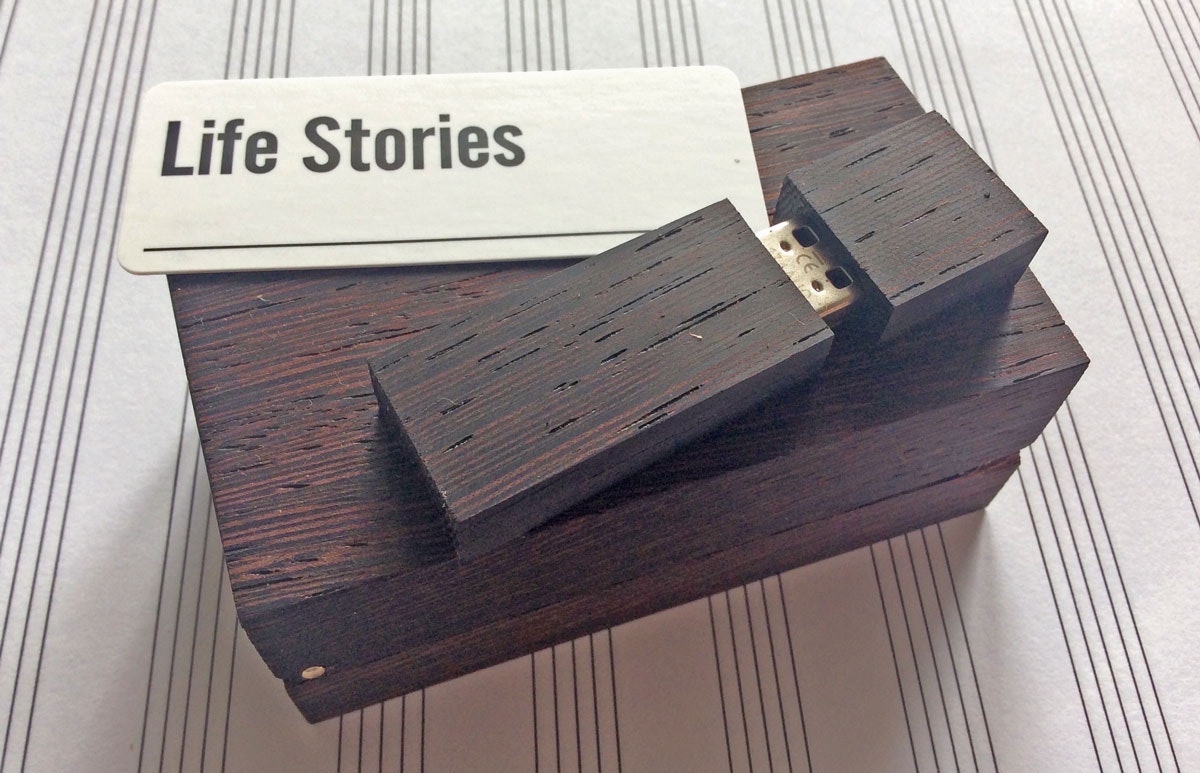 We aim to make this as affordable as we can, and believe that everyone has a story that should be captured for their family archive and for future generations.

A Life Stories package is currently £345 - we'll travel to you too*
The perfect Christmas or birthday gift - order now and we'll send a voucher card out to the recipient...
*Optional extras such as additional wooden USB storage boxes are available. The interviewers travel expense is not included, but we'll usually just request the cost of a train fare for anywhere outside of Bristol UK.
Email to arrange a free preliminary chat or to buy a Life Stories package now..

Contact:
Gary Fawle
Director / Interviewer
Events in Sound
E: lifestories@eventsinsound.com
- Discretion, care and confidentiality are of prime importance to our service. We believe that everyone has a life story worth telling and we treat everyone as individuals with different ways of communicating.